When searching for 'pizza open near me', you deserve the very best pizza experience that Detroit has to offer! So why not reach for a slice of the good stuff courtesy of a pizza restaurant that changed the face of eating in Eastpointe and has been serving the community for generations?
Cloverleaf Bar and Restaurant is Eastpointe's original and best-loved provider of tantalizing square pizza that will take your taste buds on a journey they'll never forget. If that's whetted your appetite, wait until you sink your teeth into the delights they offer.
A Family-Friendly Restaurant Steeped In Local History
When Gus Guerra first opened the doors to his Eastpointe pizza restaurant in 1953, the Cloverleaf name had already cemented its place as one of Detroit's most iconic food establishments. And the Gratiot Avenue restaurant has been packed with patrons ever since.
For nearly 70 years, Cloverleaf Bar and Restaurant has continued to deliver stunning square pizzas that stay true to the iconic blend of premium ingredients, careful preparation, and delicate baking to unlock maximum levels of cheesy goodness time and time again.
The historic Eastpointe pizza restaurant has undergone several renovations and upgrades over the years, not the least following the fire of 1993. While those updates have been central to maintaining a comfortable setting, the venue has stayed true to the accommodating and family-friendly vibes that have united several generations to make them feel right at home.
While many eateries view pizza as fast food, Cloverleaf Bar and Restaurant goes the extra mile to provide a true dining experience. Share great conversations in a cozy environment while your pizza slowly bakes for 25 minutes until it's ready to take you to pizza heaven.
If you're looking for the nearest pizza place to me, Cloverleaf Bar and Restaurant in Eastpointe stands out as the ultimate location to merge elements of fine dining with the emotional comforts of being back at moms.
From the first time you step inside the doors, Cloverleaf's community vibe and importance to the history of Eastpointe and the wider Detroit area is transparent. Still, those successes would mean nothing without the best-tasting pizza in town.
The Original Detroit-Style Square Pizza
Having initially gained notoriety at the company's first store, the famous Detroit-style square pizzas became an instant hit at the Eastpointe Cloverleaf Bar and Restaurant. And the love felt towards the succulent creations has never been greater.
Gus Guerra's family recipe of savory spiced sauce is combined with a thick, crispy crust, as well as a thick layer of cheese before being topped with generous amounts of premium toppings. The stone-baked pizzas guarantee a taste sensation every time, picking up many of awards over the years.
Accolades include the International Pizza Challenge's Non-Traditional category and the North American Pizza Pizzazz™ honor. Those awards, along with word of mouth from happy diners, have seen Gus Guerra affectionately nicknamed the Pepperoni Prince, Mozzarella Maestro, Sausage Supremo, and Father of Detroit Square Pizza.
While the Cloverleaf family has grown and the ovens have improved, the iconic processes and commitment to quality local ingredients and careful pizza preparations have followed the company all the way to the current day. With each bite, you will experience the undeniable feeling that this is a truly unique and special dining experience right in the heart of Motor City.
Many have tried to emulate the glory of Detroit's original square pizza, but none have ever come close to matching Cloverleaf's unmistakable levels of perfection. It truly is love at first bite!
Pizza That's Square With Flair
What separates Cloverleaf Bar & Restaurant from most other pizza restaurants in Michigan? After decades of serving people at the heart of the community, Cloverleaf understands that people are the heartbeat of Eastpointe. It's a diverse location with diverse tastes, and the pizza restaurant has something for everyone.
In fact, that's one of the many attractions of a square pizza, especially when sharing. There's a clear choice between picking up the inner slices or the crusts. Likewise, slices can be different sizes, allowing for easier portion control until you're satisfied and full.
Cloverleaf Bar and Restaurant doesn't only serve the best pizza in Michigan, it serves pizzas that are tailored to personal requirements. Personalized perfection is guaranteed thanks to the following factors:
A wide range of toppings such as; pepperoni, black olives, green olives, Artichokes, ham, tomatoes, anchovies, hot peppers, Alfredo sauce, pineapple, spinach, fresh basil, mushrooms, sun-dried tomatoes, garlic, broccoli, green peppers, BBQ sauce, onions, extra cheese, bacon, ground beef, Italian sausage, chicken, feta cheese.
Gluten-free square pizzas made with the same levels of care and perfection, only using designated pans and utensils to prevent cross-contamination.
Specialty gourmet pizzas, including; Bruschetta, BLT, Supreme, BBQ Chicken, and Hawaiian, as well as the option to create your own gourmet-style pizza.
Various other delightful dishes ranging from shrimp and calamari to freshly made salads, chicken wings, pork wings, and burgers.
Thanks to the quality ingredients, pizza ovens, and baking procedures, your days of unreliable quality are gone. If looking for the nearest pizza place to me that will satisfy your expectations every single time, Cloverleaf is the one pizza restaurant where you'll no longer pray for luck.
Have it your way. Choose Cloverleaf Bar and Restaurant in Eastpointe, MI.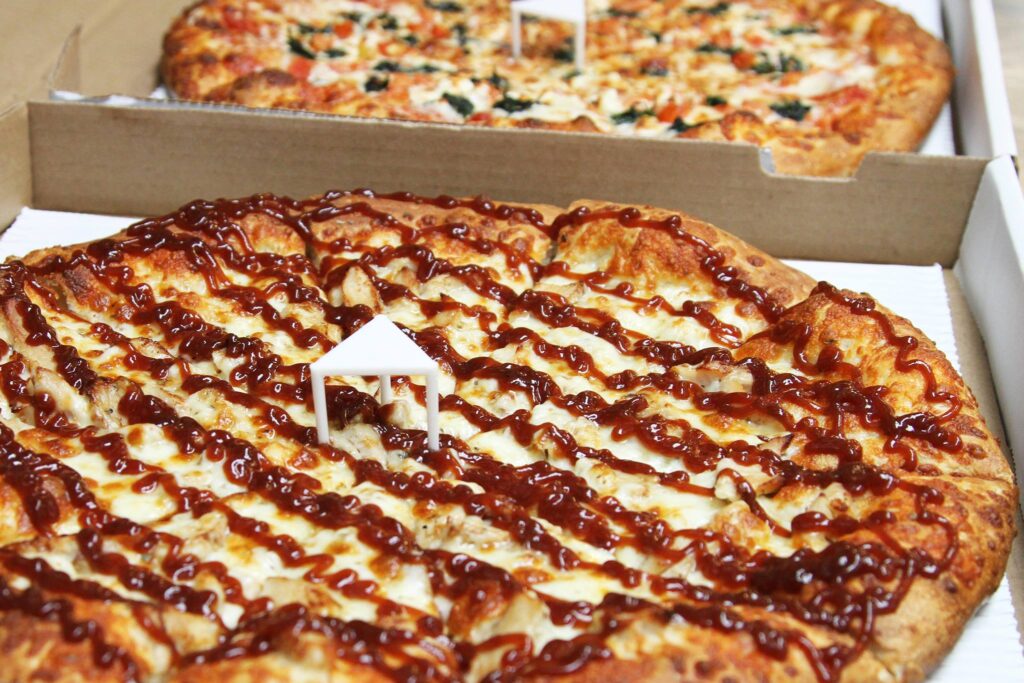 A True Pizza Experience
If delicious tastes, stunning smells, iconic appearances, and an accommodating venue in a convenient location wasn't already a recipe for success, the fact that Cloverleaf Bar and Restaurant goes the extra mile to deliver unforgettable experiences cannot be overestimated.
Whether you're planning a date night, an afternoon lunch with a friend, or a child's birthday party doesn't matter. The family-owned business is fully committed to making every aspect of the visit a memorable one for all the right reasons – the best pizza in town remains at the heart of those endeavors.
When looking for a high-quality restaurant that serves square pizza open near me, Cloverleaf's historic Eastpointe restaurant is the answer seven days a week. Taste what the fuss is about today by calling (586)777-5391.