You're thinking about coming down to Cloverleaf Bar and Restaurant in Eastpointe, MI. You're pretty sure you're going to have a good time. The problem is, the menu has so many delicious options that you can't decide what you might want to eat. Of course, you can make a decision when you arrive and sit down to order. But sometimes you want to be prepared so that you have some idea of what's good. Even if you're not sure what you're in the mood for yet, you want to know which are the best options on the menu.
While we think that our entire menu is fantastic, all of our customers have their favorites. If you have yet to find yours, we can help you to find out which of our dishes tickles your taste buds the most. It all depends on what you like to eat and what you're looking for from your meal. Here are some of our top suggestions from our menu, based on what you might want from your experience at Cloverleaf Bar and Restaurant.
If You're Interested in What We're Famous For
It's no secret that Cloverleaf is known for its pizza. It's with Cloverleaf that the iconic square, Detroit-style pizza began, first produced by our founder Gus Guerra in 1946. And we continue to make it to this day, offering our diners an impressive range of options to help them find their favorite pizza.
Our original square pizza is a deep-dish, crispy-crusted pizza that's baked to perfection in a stone oven. Everything is perfectly balanced, from the mix of cheeses to the spices in our sauce. We bake all of our pizzas from scratch, with each one taking about 25 minutes. This gives diners time to have a drink, eat an appetizer, and spend time talking and laughing before their pizzas arrive. We offer our pizzas for complete customization, with more than 20 options for toppings and two different sizes. We even have gluten-free options!
Our specialty gourmet pizzas are also an option for anyone who wants a well thought out choice with toppings that we have chosen to complement each other. Premium ingredients make options like the BLT, Supreme, and Bruschetta gourmet pizzas some of the best options on the menu.
If You're Looking for a Snack or Something to Get You Going
Appetizers are super flexible. They make great snacks to go with drinks, light bites if you're not feeling particularly hungry, excellent sharing platters, or an introduction to the rest of your meal. If you want a snack or something to start off your meal, our range of appetizers is perfect for you.
We've got appetizers of different sizes and at several price points, offering something for everyone. On our $5.99 menu, you'll find delights such as garlic bread, potato skins and mozzarella wedges – classic bar snacks and appetizers you won't want to miss. Then there are $6.99 options, like our spinach artichoke dip and battered mushrooms, or $8.99 dishes, including corkscrew shrimp and chicken wings. And there's even more, from French fries to nachos.
Which appetizers you choose might depend on who they're for. If you're sharing among friends and family, a pound of chicken wings or a combo platter could be great to share. If you just want something to tickle your taste buds until the rest of your food arrives, some pickles or stuffed mushrooms might be right for you.

If You're Health-conscious or Want a Light Bite
Watching your figure or eating healthily doesn't have to mean that you can't dine out. You don't have to want a burger or pizza to enjoy your food and have a good time. For anyone who is trying to be a little healthier or perhaps has dietary restrictions, our selection of salads might tempt you. We can even offer you fat-free dressings to help you keep your salad as healthy as possible.
Our salad options include an antipasto salad, Greek salad, crunchy chicken salad, and Caesar salad. We also have a dinner salad and a coleslaw. There are six different dressings to choose from, in addition to fat-free Italian and ranch dressings. Of course, salads can also make a great side dish if you want a refreshing addition to any other items on the menu.
For another light bite, an alternative to an appetizer, or side, you might also like our soups. We have homemade soups of the day, plus several soups that are permanently on our menu. Choose from minestrone and Italian sausage, French onion au gratin, and clam chowder.
If You Have a Gluten-free Diet
Anyone with a gluten-free diet doesn't need to worry! When you visit Cloverleaf Bar and Restaurant, you don't have to miss out on pizza! We have gluten-free pizza bases that allow you to join in the fun and enjoy the classic Italian dish with no worries.
Our gluten-free pizzas come with four slices, with the option to add the toppings that you want. Our specialist gourmet pizzas also come as gluten-free options, or you can create your own gluten-free specialty pizza. We strive to prevent cross-contamination, with a separate prep area, pans and utensils for our gluten-free pizzas.
If You're Looking for American Classics
Cloverleaf is known not just for its pizza, but for a range of classic American and Italian dishes too. So if you're craving some classic American food, you're sure to find it at Cloverleaf Bar and Restaurant. Our menu features burgers, American sandwiches like the Reuben, turkey club, and Philly steak and cheese, and some delicious steak, ribs, and seafood options. You can also find classic American desserts on the menu, including cheesecake.
If it's American cuisine that you're hungry for, build your own burger from our selection of toppings. With a choice of cheeses, vegetables, bacon and dressings to add to your burger, you can create the perfect burger that's cooked to order, just for you.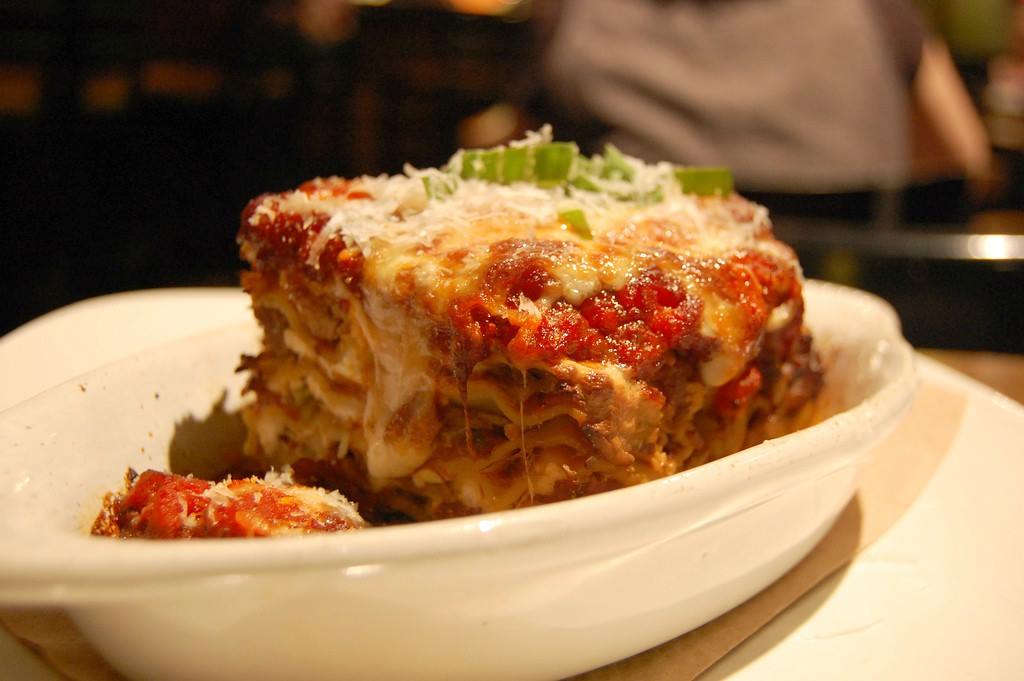 If You Want an Italian Classic
Alongside our classic American dishes, you'll find a great selection of Italian favorites too. Pasta and paninis are perfect for anyone looking for a meal that's packed full of Italian flavors. Our menu allows you to create your own pasta dish just how you like it. You can choose between six types of pasta and six sauces, plus a range of additions, including veggies, meat, and baked cheese. On top of that, we have some fantastic Italian classic pasta dishes, such as homemade lasagna, with the option to add chicken, Italian sausage or meatballs for just a little extra.
More pasta dishes are available for a gourmet Italian experience too. Chicken Marsala, Veal Parmesan, and several more delicious options all offer you quality pasta and premium ingredients.
If You're with the Whole Family (or Friends)
Cloverleaf Bar and Restaurant is the perfect place for the whole family or a big group of friends. When you're looking for an option that will satisfy everyone, our buffets are the answer. Offering pizza, pasta, salad, crunchy crust, and more, there's something for everyone available at our buffets!
Join us for a buffet on the following days/times:
Sunday from 12 pm to 7 pm
Monday 5 pm to 8 pm
Monday to Friday from 11 am to 2 pm
Saturday 12 pm to 3 pm
Adults can eat from $7.75 for our quick lunch buffet, while kids age ten and under eat from $4.99. Our buffets are designed to satisfy you and provide a fun, tasty experience. Whether you're bringing your family or visiting with some friends, we'll be here to welcome you.
Of course, there's nothing to stop you coming alone!
If You Want Meat or Seafood to Be the Star of the Show
Need some protein? Maybe you're bulking up at the gym, or you're just hungry for some meat or seafood. Our choice of meat and seafood dishes will give you what you're looking for, cooked to perfection. With options like tender, barbecued ribs, Sicilian steak, and NY strip steak, meat lovers can get their fill. An Italian bread basket and either soup of the day or dinner salad complete the meal too. Our seafood dishes offer some slightly lighter choices, including broiled cod and batter-fried shrimp.
For a mix of American and Italian cuisines, try the Sicilian steak. You get an NY strip, lightly breaded and cooked to perfection, with a side of pasta and tomato and garlic marinara sauce.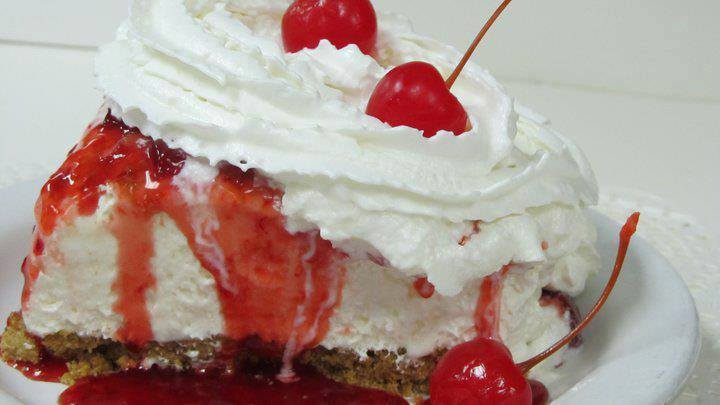 If You're Hungry for a Sweet Treat
For some people, the savory portion of the meal is just a runner-up to the main event: dessert. If you always take a look at the dessert section of the menu first, we've got you covered.
Our dessert specialties include homemade whipped cheesecakes, such as original cheesecake topped with strawberry or cherry, or Oreo cheesecake. Ask about the featured desserts for the day when you visit us – you won't know what might be available until you come down and see for yourself. But if you want to know what you should choose, our cheesecakes are always a highlight that won't let you down!
If You Want to Quench Your Thirst
Food isn't the only thing on the menu at Cloverleaf Bar and Restaurant! Anyone who wants to quench their thirst will discover plenty of options as well.
We have both non-alcoholic and alcoholic beverages, from iced tea and a selection of flavors from Jones Soda to some carefully selected craft beers, which change with the seasons. Both hot and cold drinks are available. We recommend asking your server about our craft beers if you're interested in exploring something new.
What Do Our Customers Think?
Of course, it's one thing for us to say which are the best options on the menu, but what do our customers think? Everyone has their favorite item on the menu, but our customers often let us know what they've enjoyed when they visit us.
It comes as no surprise that our pizza is particularly popular with our customers. One diner, Margaret, even said in her Google review that it is "truly the best Pizza in the state of Michigan". Another diner says that the restaurant "serves some of the city's most traditional Detroit-style pizza. Really tasty deep-dish with crispy corners." John says that our gluten-free pizza is "the best GF pizza I've had in southeast Michigan". In fact, if you look at some of our reviews, you'll find the word "great" coming up again and again in relation to our pizza.
Apart from the pizza, what else do people like? Some people have a hard time settling on one favorite. Mike left us a review to say that the "salad, pasta, chicken, meatballs, & dessert Buffet" are all delicious. Others have firm favorites, from Kathryn who loved our calamari to Richard who enjoyed the freshness of our Greek salad. One reviewer thought our fried mushrooms were the best, while Amy loved our stuffed pasta shells.
Other dishes recommended by our reviewers include our spinach and artichoke dip, the antipasto salad, clam chowder, and our cheesecake. You can take a look at our Google reviews here if you want to read some more. We have almost 1,700 reviews, with an average rating of 4.4 out of 5. You'll find plenty of raving about our pizza, but also lots of love for our other dishes, the service, and the fun time that you can have at the restaurant.
The Cloverleaf Bar and Restaurant menu has something for everyone. Our pizza is definitely the star, but there are plenty of other options for our diners to explore, though.
If you're looking for the best option on the menu, start with the pizza and branch out from there. Our pizza is still made in the traditional Detroit style, and you can trust that it's going to be fantastic every time. If you're still not sure what you want, just ask your server to recommend something. They'll be happy to help you find something to your liking!