When it comes to pizza, it's hip to be square.
If you're looking for a great pizza restaurant in Eastpointe, MI, searching for "square pizzas near me" is the obvious place to start. While there are dozens of good places to eat across town, only one can deliver the very best square pizza in the city. Cloverleaf Pizza Bar & Restaurant is the answer!
Why Square Pizza?
Pizza is food sent from the heavens and fit for a royal feast. And the square pizza is the king!
Sure, your standard pizza joint delivery will adhere to the standard protocol of circular pizza in triangle slices. When hunting for 'food places near me' that provide something more suited to those special occasions with your loved one (or if you just want the best taste Eastpointe has to offer), square pizza is the choice of champions.
There are many reasons to fall in love with the best square pizza in Michigan, including but not limited to;
Say goodbye to the corner slices that are virtually all crust and no toppings!
Gain the chance to manage portion control through a variety of different sizes slices!
Stay loyal to the inner or outer slices, whichever suits you best!
They are convenient for sharing and equally dazzling for solo diners!
Get more pizza as a 12" by 12" square, for example, has more surface area than a 12" diameter!
Know that all slices are cooked evenly to perfection time and time again!
Enjoy an even and consistently generous helping of sauce, cheese, and toppings!
Remove the awkwardness of trying to fold triangular slices!
Receive an esthetically beautiful pizza that is sure to brighten up your Instagram feed!
Square pizzas deliver the same glorious tastes and cheesy goodness of a traditional circle pizza but throw on the extra ingredients of convenience, customization, and character on top. We love it, and we're sure you will too!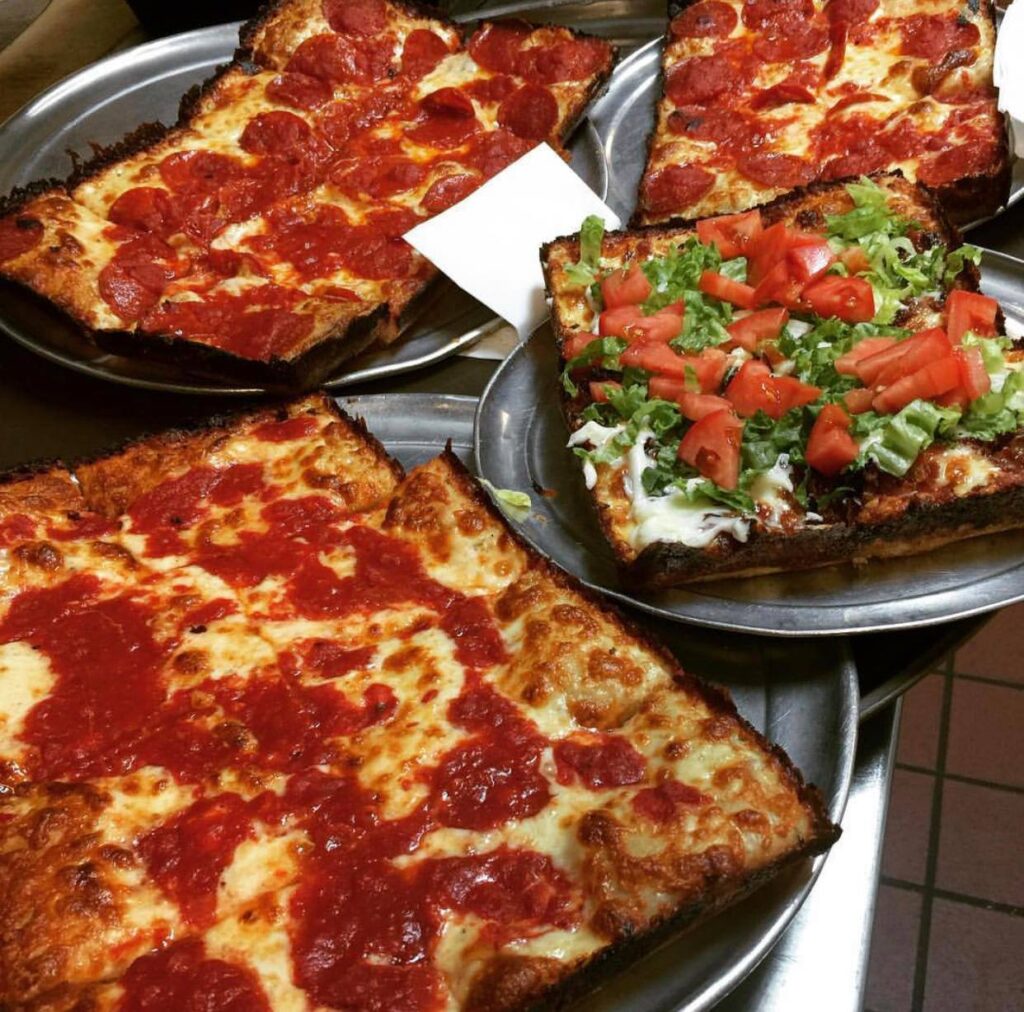 Grabbing A 'Pizza' The Action
Pizza is the food of champions, and we could happily eat it for breakfast, lunch, and dinner. It combines the best of family satisfaction, simple yet hearty recipes, and the opportunity to enjoy it with loved ones.
While there are many ways to enjoy pizza, there's nothing quite like the joy of sitting down in a restaurant to soak in the smells and atmosphere before your beautiful creation arrives to fill a hole in your stomach and your heart. It is truly one of life's great joys.
When searching for 'pizza places near me', the home of Detroit's famous square is the best place to 'dough'.
The Game-Changing Square Pizza in Michigan
Cloverleaf Pizza isn't only the best square pizza specialist in Michigan – it was also the first!
Back in 1946, Gus Guerra reinvented the pizza wheel so to speak. His square pizzas would quickly gain notoriety as the "Detroit style" pizza, with the iconic thick crusts, hand-sliced toppings, and thick layer of bubbling cheese presented in a square style becoming a big hit with diners across Motor City.
Affectionately known as the Father of Detroit Square Pizza, Gus Guerra has seen a winning recipe of premium ingredients, perfect baking, and square design scoop a plethora of local and national awards while also being recognized as one of the 101 Best Pizzas in America.
The company has grown, with Cloverleaf Pizza Bar & Restaurant at 24443 Gratiot Avenue opening in 1953. It is home to the perfect square pizza in the perfect setting for families and business lunches alike, delighting hundreds of fans throughout Eastpointe every single week, as well as visitors from St Claire Shores, Warren, Grosse Pointe Park, and beyond.
Cloverleaf Pizza's surroundings have changed, not least due to the renovation work after a fire in 1993, but the family recipes that even pre-date the company's first pizzas of 1946 live on to this day, delivering the unique comfort that only an authentic family-run pizzeria with over seven decades of experience can bring! Many locals search for 'pizzas near me' only to find that their loyalty is well placed with a venue that delivers exceptional square pizzas time and time again.
Plenty have tried to copy the iconic square pizzas, but never quite manage to replicate the simple but sublime tastes and dining experiences that only Cloverleaf Pizza Bar & Restaurant delivers!
What Makes Cloverleaf's Stand Out As The Best Pizzas Near Me?
Good question. And, in truth, it's one that no words could ever do justice. However, the hundreds of verified five-star Google reviews give a clear indication of the quality that you can expect when tucking into the best square pizzas Eastpointe has to offer.
Here's just a selection of reviews from visitors to Eastpointe's premier pizzeria:
"It's nice to know that Cloverleaf still has the taste I remember."

– Stedman Frye
"We hosted our daughter's birthday party here on 3/8/20. Although I underestimated how many guests were coming, cloverleaf made it all work. They were super accommodating. Our server Taylor was phenomenal. The salads and pizzas were all delicious. It was a great experience. We will be back for sure!"

– Leia Adams
"Cloverleaf Pizza is truly the best Pizza in the state of Michigan. Wish I lived closer to the restaurant."

– Margaret Blakely
"Cloverleaf Bar and Restaurant serves some of the city's most traditional Detroit-style pizza. Really tasty deep-dish with crispy corners."

– Joseph Tordella
"Excellent! Cloverleaf is the real deal. Great service, flavorful sauce, perfect crust."

– Mike Spurlock
Whether it's a big birthday bash, a date night, or a Tuesday afternoon doesn't matter. Cloverleaf Bar & Restaurant prides itself on combining a modern and comfortable setting with the friendly and accommodating service that diners deserve. When searching for 'food near me open hours', you'll be pleased to know that the pizza palace is open seven days a week.
At the heart of that success, though, is the award-winning pizzas that have left the taste buds in a trance for decades. Whether you're preparing to bite into the iconic square pizza for the very first time or looking to reconnect with the unforgettable Cloverleaf experience, it will be love at first bite.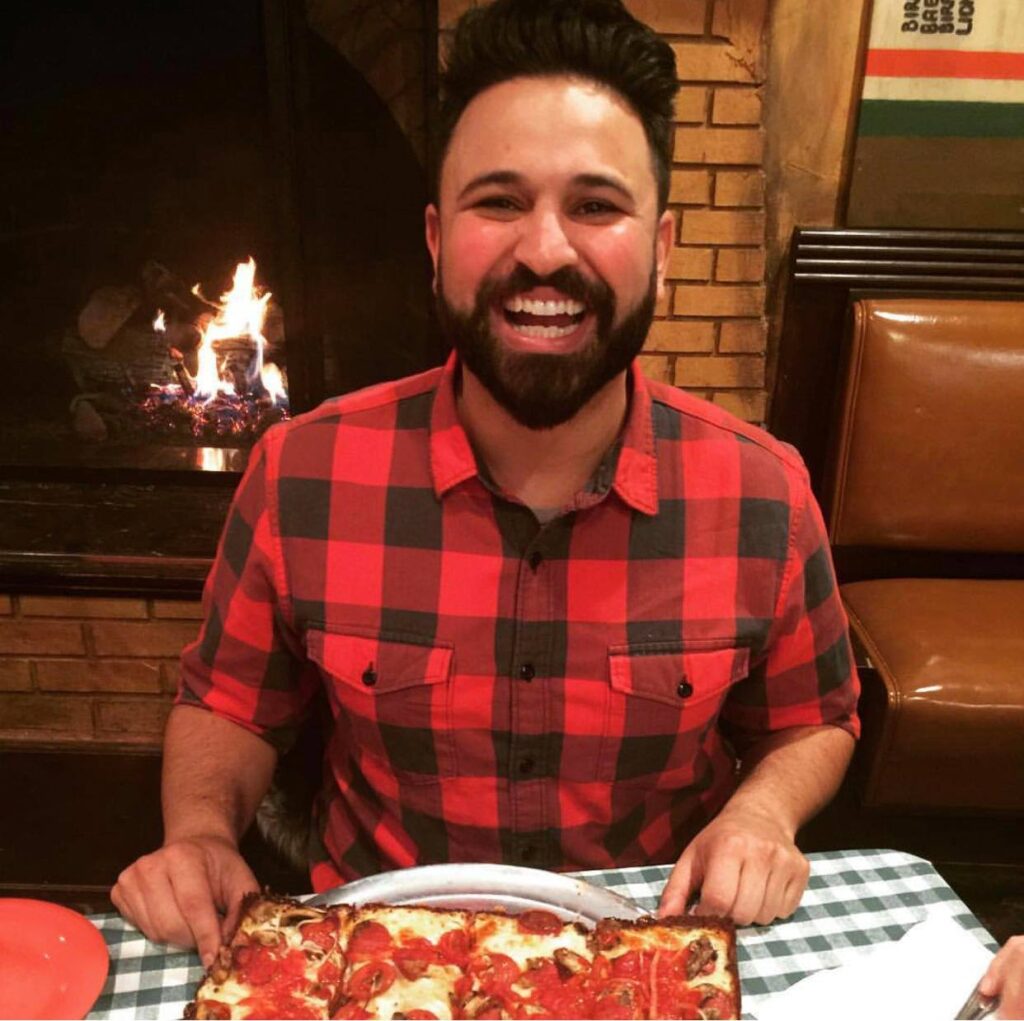 Square Pizzas Personalized To Perfection
Cloverleaf Bar & Restaurant doesn't simply believe in delivering Detroit's best pizza. It strives to deliver YOUR best pizza.
The family-run business continues to use the same fundamental cooking technique as when it opened all those years ago. Likewise, Michigan's number one square pizza outlet maintains its commitment to sourcing premier local ingredients, combined with in-house savory and perfectly-spiced sauce that has become synonymous with the Guerra name. Still, it's all about the personality.
At Cloverleaf Bar & Restaurant, the original Detroit taste sensation is customized to your liking with a range of variables, including but not limited to:
Size:
Diners have the choice of a small (four-slice) or large (eight-slice) base while groups can also create bigger sharing pizzas.
Toppings:
A wide range of toppings is made available on all Cloverleaf square pizzas. Standard options include; pepperoni, tomatoes, spinach, broccoli, black olives, anchovies, fresh basil, green peppers, green olives, hot peppers, mushrooms, BBQ sauce, artichokes, Alfredo sauce, sun-dried tomatoes, onions, ham, pineapple, garlic, and extra cheese.
Further topping choices include bacon, ground beef, old-fashioned pepperoni, Italian sausage, chicken, and feta cheese. The creative possibilities are limitless while all ingredients are locally sourced and of the highest quality.
Specialty Pizzas:
Despite being steeped in tradition, Eastpointe's best square pizza parlor also takes great pride in adapting to the changing demands of modern Michigan pizza lovers. In addition to the original Detroit style pizzas, the family-run business now offers a range of specialty pizzas.
These include gluten-free pizzas and gourmet pizzas (Bruschetta, BLT, BBQ Chicken, Hawaiian, Supreme, or Create Your Own) to deliver even more memorable tasting experiences. There's something for everyone, regardless of taste preferences or dietary requirements.
The Original Detroit Pizza Experience
Good pizza is fast food, but great pizza should deliver a true culinary experience. A little TLC goes a long way and is something all diners should seek when searching for 'food places near me' and variants. With Cloverleaf Bar & Restaurant, you're in luck.
All square pizzas are lovingly made on-site by the passionate pizza artists. Crucially, the team believes that great pizza should not be rushed, which is why all personalized creations are left to bake in the oven for around 25 minutes before leaving the oven with gloriously crispy bases, tangy tomato sauce, bubbling stringy cheese, and perfectly cooked toppings.
From the first bite to the last, every slice of the best square pizzas in Michigan guarantees a truly memorable pizza experience that will not be forgotten. When supported by the clean, charming, and charismatic surroundings of the Gratiot Avenue venue, an unrivaled love is assured.
In addition to its world-class, award-winning pizzas, guests can dazzle their taste buds further with a selection of;
Appetizers (including potato skins, potato puffs, and stuffed mushrooms)
Platters, chicken and pork wings, calamari, shrimp
Homemade soups, including Soup of the Day
Salads (Caesar, Antipasto, Greek, Crunchy Chicken)
Burgers, sandwiches, and paninis
Whether looking solely for pizza or for food near me open to groups with diverse taste preferences, the home of Eastpointe, MI's best square pizza is the perfect place to enjoy a slice of the action.
What Are You Looking For In A Pizza Near Me Establishment?
After seven decades in the business, Cloverleaf Bar & Restaurant doesn't only know more than a thing or two about great pizza. They also appreciate what pizza lovers want from their visit to a restaurant.
Gus Guerra's original desire to deliver delightful taste to Detroit diners is still evident in every aspect of the operation, with all members of the family-run business buying into the ethos and commitment to customers.
Every visit to Eastpointe's best-loved square pizza restaurant will be certain to provide;
Perfectly baked pizzas that combine the tastes of Italy with the iconic unique flavors that only Cloverleaf Bar & Restaurant can produce.
An accommodating, friendly, and comfortable dining experience in a cozy setting that blends tradition and history with modern requirements.
A unique pizza tasting experience, but underlined with the reliability of crisp crusts, stringy cheese, and flavorful ingredients in every bite.
The home-like atmosphere that only a local business with decades of experience and understanding of the Eastpointe area can provide.
Excellent value for money, with the iconic Detroit style square pizzas starting at just $6.80 (small) and $12.35 (large).
Eastpointe residents fall in love with the town's original and best square pizzas at the first bite. It's a love story that grows stronger with each subsequent visit. If you're passionate about great tasting pizza, Cloverleaf is the only place to be.
Finding Food Near Me Open To All Never Felt Easier
After such a long history of serving pizza lovers throughout Detroit, Cloverleaf Bar & Restaurant prides itself on being a real pillar of the community. And that means making great pizzas that can be enjoyed by all!
Aside from an eclectic menu that offers a range of traditional and modern takes all presented in an iconic square pizza at affordable prices, the venue strikes a perfect balance between class, tradition, and casual eating.
With multiple pizzerias found throughout the location, the Cloverleaf brand brings familiarity, even if you've never visited the stunning flagship Eastpointe restaurant. As soon as you step in, you'll feel like you're right at home. And once that carefully prepared and deliciously baked pizza arrives at your table, you will be instantly transported to pizza heaven.
The smells. The look. The taste. There is no better pizza experience anywhere in Michigan. Immense satisfaction is guaranteed in every bite.
Discover Eastpointe's Best Square Pizza For Yourself
If you're reading this and salivating at the prospect of sinking your teeth into the original and best delicious Detroit-style square pizza that Eastpointe has to serve, you're in luck. Cloverleaf Bar & Restaurant is ready to turn your pizza dreams into a reality.
Come and grab a (square) slice of the fun by calling 586-777-5391 today!